10-06-2022 Update: Barry Schwartz recently wrote about this topic
30-06-2022 Update: I found this great post from Joy Hawkins on the topic
Has it happened to you?
The situation is as follows. You ask for a review to a delighted customer who leaves the building as happy as he can be, promising to leave a 5 stars one. Days pass and you don't hear from him, so you reach out to the customer. He did indeed left a review, but it never showed up. You are shocked. What's going on big G?
This is what happened to one of Localboss user's recently, but he's not an exception: if you check the Google Business Profile users forum you'll find that your are not alone: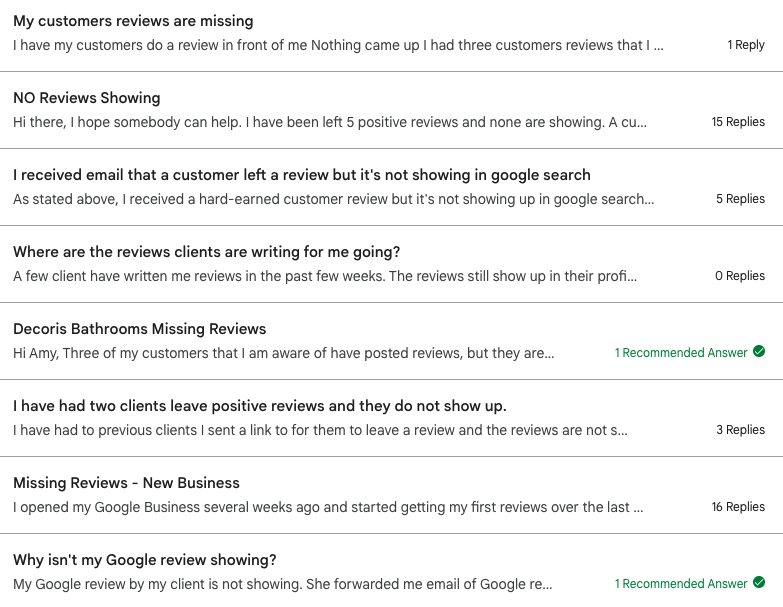 Why is it happening?
Let's assume that it's a real review (if it's yours, our your husband's, or some random friend who you asked and never set foot in your business it's not going to work).
At some point during 2021 Google updated the filters that try to identify spammy and fake reviews with the clear and necessary intention to prevent Google Maps become some sort of Amazon where reviews can't be trusted any more. This means that, according to their own words, they are being extra careful in terms of removing suspicious reviews:
Google uses automated spam detection measures to remove reviews that are probably spam. These measures help improve people's experiences on Google and ensure that the reviews that they see are authentic, relevant and useful. Some legitimate reviews may be inadvertently removed.

https://support.google.com/business/answer/4596773

This means that your customer review can be filtered out as fake or maybe it's going throw some sort of manual review and there's no decision yet about the review authenticity. Either way, what are the main reasons why Google blocks a legit review?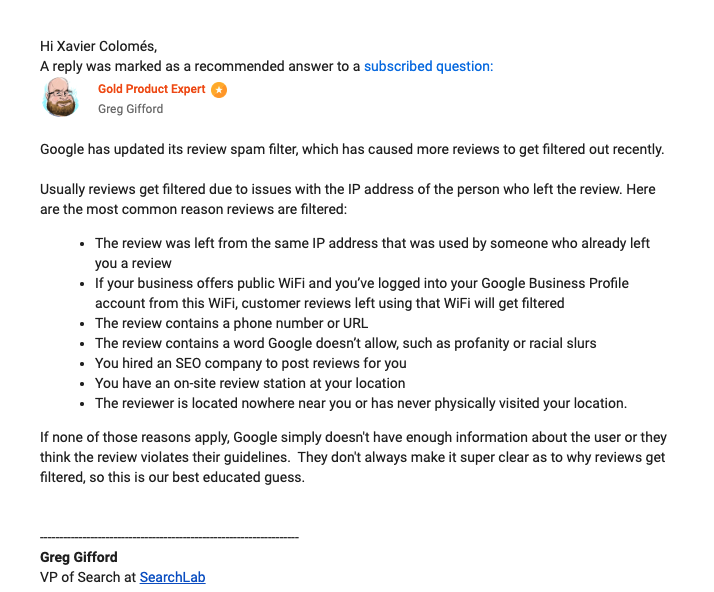 Be aware that we don't have much info here, but this is what we know:
The review is violating some of the Guidelines. The most usual reasons are inserting URLs, inappropriate language, personal data, off-topic content or similar. Also a review can be filtered out if Google (AI) detects language that doesn't reflect the main activity of the business.

There's a problem with the IP used by the customer. Imagine that someone posts a fake review, is detected and that IP is banned from posting more reviews. If your customer is posting his review from that very same IP, it will be blocked.

Google detects that this is not a real customer, based on a number of factors that we are not aware.
In any case, this is not the end of the road for our customer review. We can ask Google to review and publish these reviews. How?
How to recover the missing reviews
The key part of recovering the missing reviews is to ask your customer to send a screenshot of the review. Of course, this is not always possible and we never know about how many legit reviews have been unfairly filtered out. In case you can collect the missing review screenshot, you have to contact Google Business Profile here, via email, to send a ticket with a ID number that will normally be like this: 9-XXXXXXXXXXXXX.
Chances are that these ticket doesn't achieve anything, but you have to try it first. Then, if this doesn't work, this is what you need to do: Explain your case in the Google Business Profile Forum with all level of detail, and include the screenshots for the reviews.
Then, one of the senior members can take the issue directly to Google for you (they must have some sort of special help desk for their clients) and speed things up. But only after you tried to fix it directly with Google, and no need to say, only if your reviews are 100% real.
Last word
I know, Google should do better. But here I'm taking their side. As frustrating as it is to see real customer reviews being filtered out without a reason (that we know of), I understand that they are trying to do something EXTREMELY difficult, even with all the technology and talent they have available. They will get there, and they will eventually get it right, but right now this is the small price to pay for having a trustworthy reviews system that we can rely on.