What is Google Business messages?
(AKA Google Business Chat or Business Messaging)
Few years ago Google introduced a very cool feature for Local Business Owners: a chat to allow customers (specially the ones considering buying from us) to chat with businesses from Google Maps. This is called Google Business Messages and has it's own entity in Google.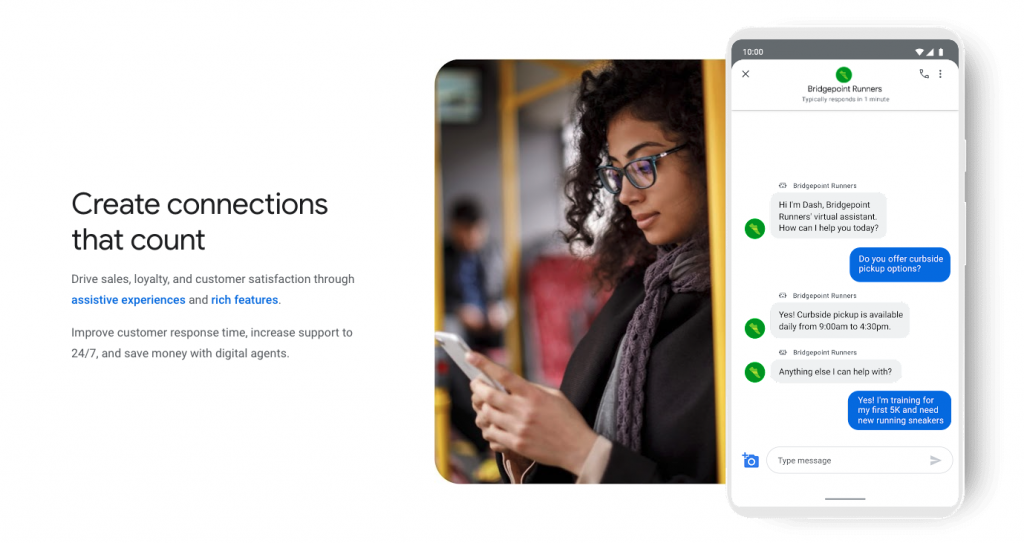 How to read & reply to messages from your Business Profile
At first we could only chat with customers via the Google Business Profile app, but now with the sunsetting of Google Business Profile it can be managed from your computer in Google Search, in your phone via Google Maps app or via… a partner, which we will tackle later.
Managing the chat has no mystery, it's a basic chat that allows posting pictures.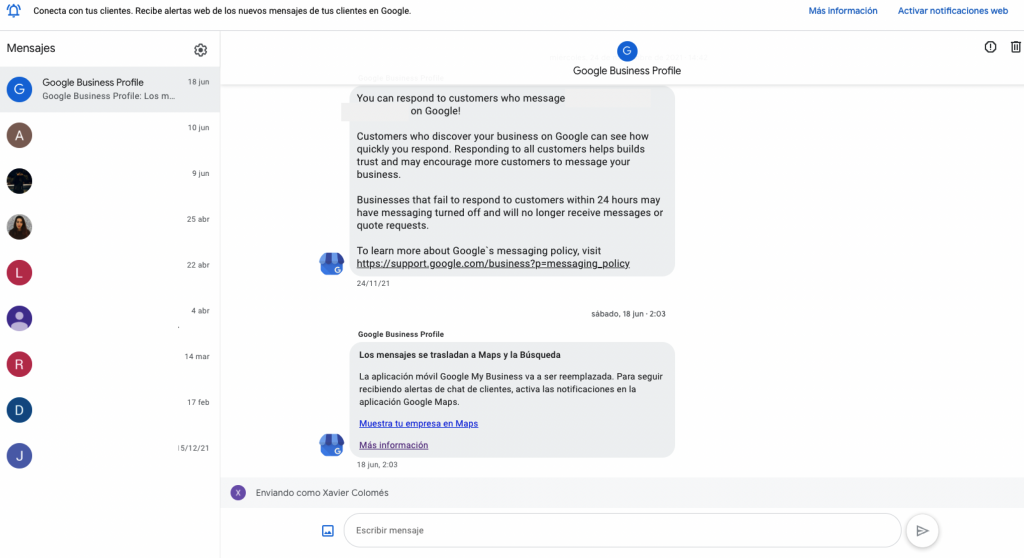 But it's important to mention 2 things:
Your name will be shown to the user, this is, the name on the Google Account accessing this Bussiness Profile location. Not everybody likes that!
Respond times matter. If you don't reply your customers within 24h, the chat will be disabled.
So, Should you activate the business chat or not?
Ok, that's the deal.
Business Messages are a SUPER win. They will absolutely get you new customers and leads. You don't know how well it works…. IF (there's a big IF, of course)… if you commit to it. And in this case committing means spending time on it.
The real matter is that in order to be successful way to get more customers, you need to respond the messages FAST. Ideally in real time as they arrive, as that's when the lead is hot to ve converted. Once they chat with you, there's no way they are going anywhere else, but you have to be there to attend them, which is not always realistic.
Let's be more specific.
You won't get many, anyway. And if you get a sleep deprived customer texting at 3am, just silence the phone and answer in the morning. But if you commit to it, it can be a secret weapon to use against competitors, and a open line with a customer that otherwise would be a passerby (as in, you can ask a review later, create a longer relationship, ask for feedback…)
Being realistic, if you can't even have time to answer emails, you don't have customer service / support, or if you are overwhelmed already… don0t activate it. This is just not for you. A easy to convert customer can become a frustrated one if left ignored and with a question unanswered.
Lastly, if you are a large company or chain, yes, your customer service team should look at it if they have bandwidth (not always the case), but keep in mind that there are great tools that will use Google's API to combine Google Business Messages into your existing chat solution. Checkout Leadferno and hundreds of other partners here.
How to read & reply messages from Business Profile
A final suggestion
In the configuration you can change the welcome message. Use it to create some expectations to the customer on how long it takes to answer (although that Google already shows some indication about this) and give them other ways to contact you in case of urgency.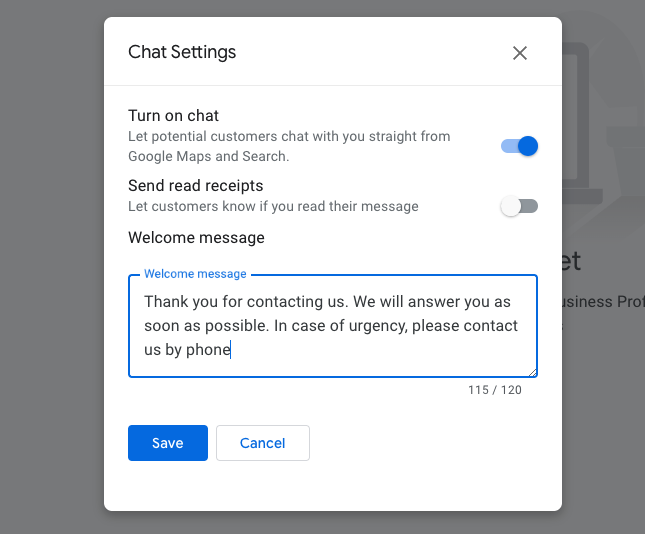 Do you use Google Business Messages?
Let us know in the comments!