In today's digital age, Google reviews play a significant role in shaping the online reputation of businesses, particularly restaurants.
81% of consumers use Google to evaluate local businesses

BRIGHTLOCAL
Customers often rely on these reviews to decide where to eat, so having a solid online presence can make or break your restaurant's success. In this blog post, we'll explore five effective strategies to increase your restaurant's Google reviews without breaking a sweat.
Ask for reviews!
The simplest way to get more Google reviews is to ask your customers for them. And yet, very few Restaurants do this, or do it properly.
Train your staff to politely request reviews from satisfied customers in-person. The secret here is NOT to ask for a "5 stars review", but to ask for honest feedback:
"It would help us a lot if you reviewed us on Google"

As simple as this sentence is, it can transform your Restaurant
If the customer booked online, you can also use follow-up emails or text messages to remind customers about leaving a review after their visit.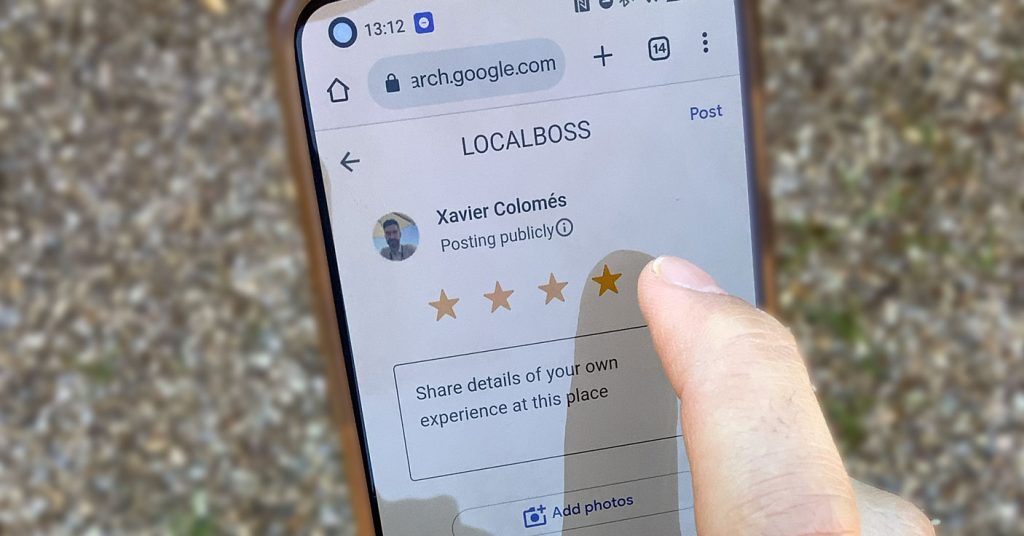 But asking for the review is only half of the job, which takes us to the next tip:
Simplify the review process
Making it easy for customers to leave reviews is crucial to increasing the number of Google reviews your restaurant receives. Don't expect the user to navigate its way through Maps, the profile, tabs and filters to find the review form. You have to send them directly to it, like in this image: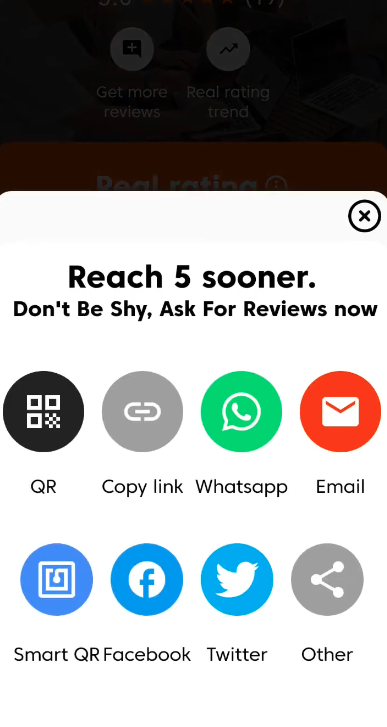 Provide direct links to your Google My Business page on your website, social media channels, and email signatures easily with LOCALBOSS. With this app you can streamline this process by offering QR codes that you can display in your restaurant or share online. Customers can simply scan the QR code with their smartphones to access your Google My Business page and leave a review instantly.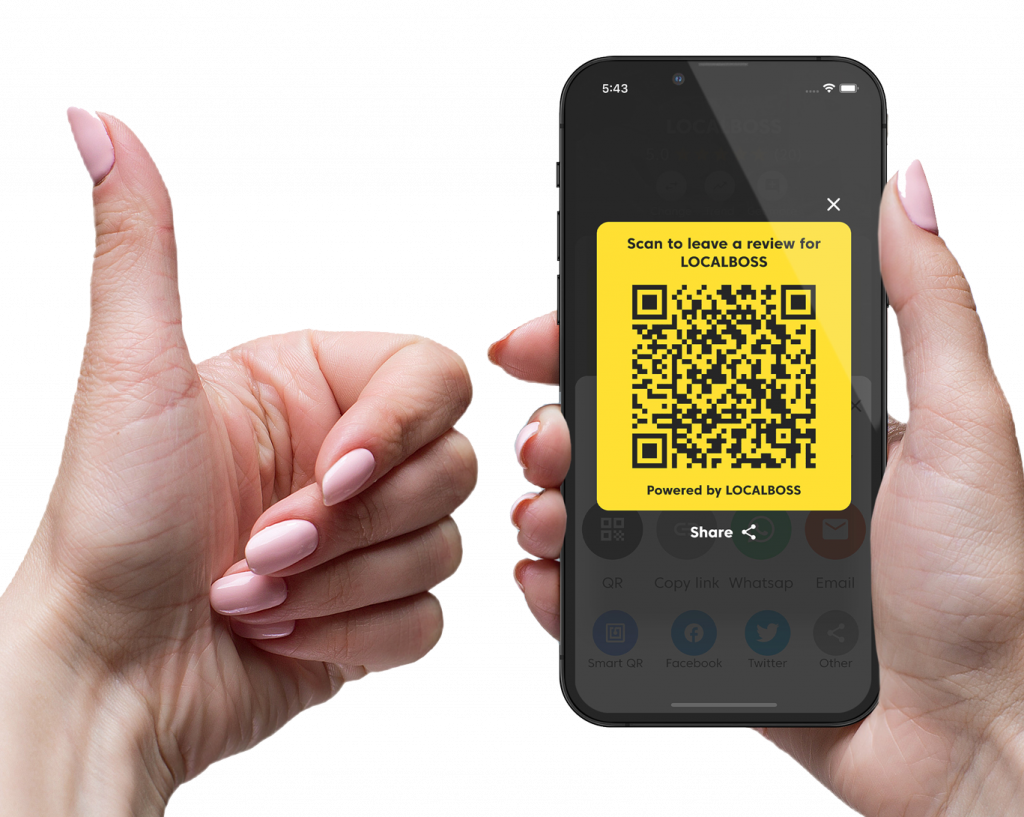 Use social media and email marketing:
Sharing positive reviews on your social media channels and in email newsletters is an excellent way to showcase your restaurant's success and remind customers to leave their own reviews.
This also helps establish trust with potential customers who may be considering your restaurant for their next meal. LOCALBOSS makes it easy to integrate your Google reviews into your social media and email marketing campaigns, ensuring that your satisfied customers' voices are heard.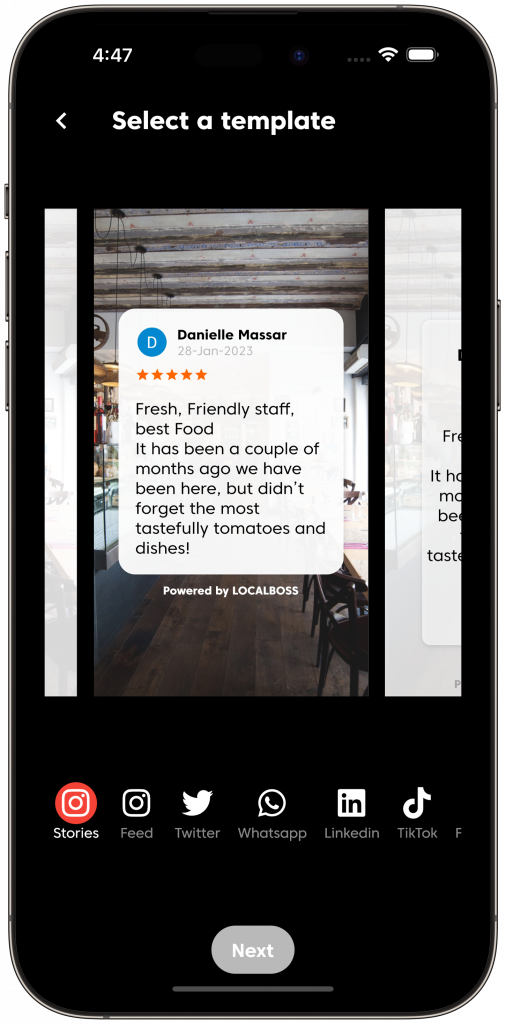 In-store signage and reminders:
Displaying QR codes or signage in your restaurant that directs customers to your Google My Business page can make it even easier for them to leave reviews while they're still on the premises. With LOCALBOSS, you can generate custom QR codes that link directly to your review page, making the process seamless for your customers, and you can also purchase a Smart QR Sticker from Messagenes.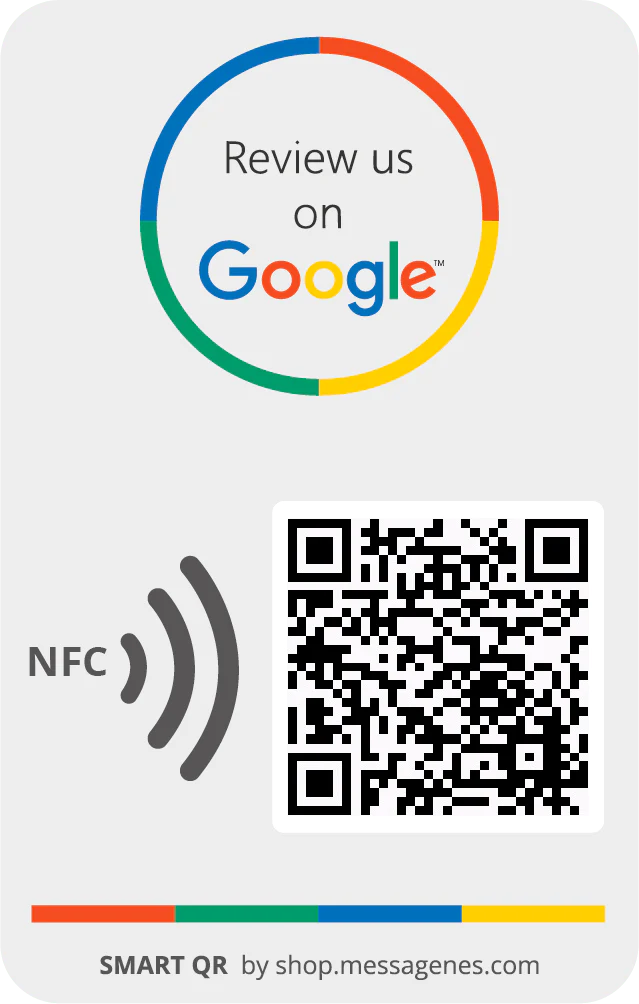 This not only increases the chances of receiving more reviews but also demonstrates your commitment to customer feedback and improvement.
Respond to reviews and maintain a positive online reputation
Engaging with your reviewers by thanking them for their feedback, addressing any concerns, and showing appreciation for their support can encourage more customers to leave reviews and help maintain a positive reputation for your restaurant.
With LOCALBOSS's review management features, you can quickly respond to reviews and keep track of your online reputation, ensuring that your restaurant continues to thrive in a competitive market.
Conclusion
Boosting your restaurant's Google reviews is crucial for attracting new customers and maintaining a strong online presence. By implementing these five strategies and leveraging the power of LOCALBOSS, you can enhance your restaurant's reputation, increase visibility, and ultimately drive more business.
Download LOCALBOSS today and discover how easy it is to manage your Google reviews like a pro!